Community support of our military is the focus of this episode. American Warrior Radio is "deployed" at the ColoGaurd PGA Classic. The PGA is very supportive of our military.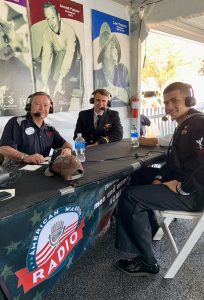 We spend the first half of the show with Jay Bickley, Vice President of the Davis-Monthan 50, and all volunteer group of over 100 community leaders that advocates for Davis-Monthan Air Force base and their airmen.  Jay also spent 27 years in the United States Air Force, retiring as Vice Commander of the 12th Air Force.
Jay and I discuss the various components of the DM-50 mission.  We agree that any community with even a small military presence should establish an organized support group if they don't currently have one. Jay emphasizes that these sorts of relationships can prove very enlightening for civilians in addition to being beneficial for the military families they support. He is happy to provide advice and mentoring to any community thinking of creating or reviving a support organization.
We spend the second half of the show with two sailors from the USS Tucson submarine. LTJG Anthony Schlitt and FT2 Jose Lopez.  They were part of a four sailor contingent from the USS Tucson making a "namesake city" visit to Tucson, Arizona.  The USS Tucson is a Los Angeles Class submarine based in Pearl Harbor, Hawaii.
Both sailors were making their first namesake visit. Both emphasize they were surprised and impressed with the level of community support that civilian members of their namesake city provide for the crew and their families.  LTJG Schlitt comments that he had heard this namesake relationship was one of the best in the Navy and this visit confirmed that belief. FT2 Lopez says it is very important to know that there are people outside of the military who are so supportive and it definitely raises morale.
TAKEAWAY: "If we don't have a good namesake relationship on my next boat, I would 100 percent push for establishing one."
Podcast: Play in new window | Download (Duration: 42:26 — 7.3MB)