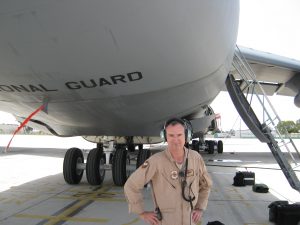 Red Burning Sky is the latest work by Air National Guard Veteran Thomas Young. The novel was inspired by the real mission that is considered by many to be the greatest airborne rescue in history. Operation Halyard took place from August to late December 1944.  Halyard successfully rescued 432 US aircrews and 80 allied troops from behind enemy lines.
Thomas had over 5,000 hours as a flight engineer in C-130 and C-5 aircraft. During his career he deployed to Afghanistan, Iraq, Bosnia, Kosovo and the Horn of Africa. He is currently a commercial airline pilot.
As part of the strategic war effort, the allies conducted bombing raids designed to shut down Germany's oil production. Many of these refineries were located in Romania.  From October of 1943 to October of 1944 the 15th Air Force conducted 20,000 bombing sorties out of Italy. The cost was high, losing over 50% of their aircraft. However, they only lost 10% of their aircrews, many bailing out over the Serbian regions of Yugoslavia.
Thomas describes the logistical challenges involved in these rescues including the fact that this region was "involved in a civil war in the middle of a World War."  He incorporated many of the real elements of this story into Red Burning Sky including the challenges of keeping so many rescued airmen off the radar of Nazi patrols, the ingenious code developed by the crews to confuse the Germans and the labor involved in carving landing strips using nothing but hand tools.
While the characters in Red Burning Sky are fictitious, some were based upon real mission participants such as George Musulin, a former professional football player turned OSS Agent.  General Draza Mihailovic, leader of the Chetnik detachments of the Yogoslav Army also plays a prominent role. MIhailovic refused offers of evacuation, choosing instead to stay and fight for his country. Tito's socialists won the civil war and Mihailovic was executed in July of 1946.
Much of this operation remained classified for many years. Operation Halyard's story is preserved and advanced by the Halyard Mission Foundation.
Podcast: Play in new window | Download (Duration: 41:59 — 7.2MB)