Development Group Five was founded by Glen Burton to use military approaches, themes and training techniques to help empower people to be the best that they can be.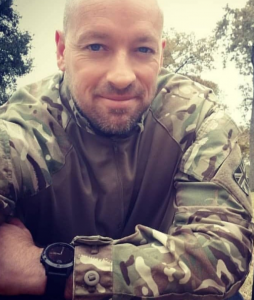 Following ten years with the British Army, Burton began a career in executive close protection and has built a reputation as one of the most highly sought after consultants in the industry. His client list includes well-known names within the entertainment and business world as well as international royalty. He has led and managed protective operations in over 120 countries. Perhaps his most infamous moment came when he transported a young African boy adopted by Madonna back to London. The tabloids claimed he had "kidnapped" the child.
The inspiration for Development Group Five first came in 2011 when Glen was hired to accompany the son of a high net worth family who was about to take a several month long adventure-training trip in South America. The young man had lost his father the previous year and Glen developed a natural mentorship relationship with him.
The Development Group Five curriculum and training is built upon five pillars; Performance, Motivation, Mindset, Vision and Execution.  Team members include coaches and business leaders in addition to individuals with a military background. In addition to personal development coaching for individuals and workshop type sessions, Dev Group Five also offers a course called "Mission Control" where teams are tested in high pressure, "real world" scenarios.
We first had Glen on American Warrior Radio to discuss his book "In Harm's Way". He has now released a second book titled "The Fortitude Warrior". He says fortitude is a trait he found common among both the military and business leaders with whom he interacted over his career. We spend much of the program talking about the concepts and inspiration put forward in the book.
TAKEAWAY: "You've got to want to be better than you are. If you are not doing something you love, then why are you doing it at all?"
Podcast: Play in new window | Download (Duration: 41:44 — 7.2MB)