Leon "Lee" Ellis spent several Christmas Holidays as a POW.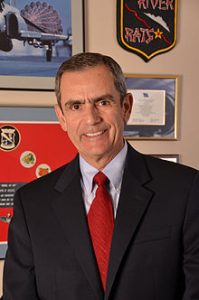 During Christmas, most of us are surrounded by that which we hold dear; family, friends, peace and hope.  The promise of Christmas is one of hope.  Those who "Stand the Watch"; the men and women of our military forces, volunteer to spend their time away from THEIR families so that we can spend time with OURS.
For several Christmas holidays, all Lee Ellis had was hope.  He was shot down and captured November 7, 1967 during his 53rd mission over North Vietnam. He would be held as a POW for five and a half years, including several at the notorious "Hanoi Hilton".
Lee said arriving at the Hanoi Hilton just before Christmas was both "good and bad" because that time of year they usually treated the prisoners better for propaganda purposes.   However, during the rest of the year he and his fellow POWs were kept in tiny cells, barely fed and often tortured.
Lee recalls receiving a package from home with warm socks, food and vitamins. However, his captors insisted he sign a receipt that stated "because of the lenient and humane policies of the Republic of North Vietnam."  He refused to sign and went without the package. Because so many others did so as well, the next time packages arrived they were not requested to sign a receipt – a small victory.
Small victories were important. They developed techniques for resisting their captors.  A "tap code" allowed them basic communication and attempting to reach prisoners in solitary confinement to let them know they were not alone or forgotten was a high priority.  Very often under torture they would volunteer false information such as flight leaders named Clark Kent and Bruce Wayne.
Lee is President and Founder of Leading With Honor, a leadership and team development consulting company that provides leadership resources and training.  His clients include Fortune 500 companies and he is in great demand as a speaker.
Takeaway: "The best gift we can give to others during Christmas is the gift of encouragement and affirmation and acceptance to others. We needed that desperately in the POW camps and we gave it freely. I have tried to keep up that habit and I encourage others to do so."
Podcast: Play in new window | Download (Duration: 39:54 — 7.3MB)