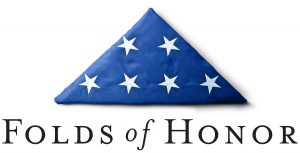 The mission of Folds of Honor is to provide educational scholarships to spouses and children of America's fallen and disabled service members.  To date they have awarded over 12,000 scholarships.
Kevin Cummings serves at the President of the Phoenix Chapter of Folds of Honor. He never served in the military but has had a great number of mentors who are Veterans. He first learned about Folds of Honor through his sister and her husband who were involved with the Minnesota chapter.
The organization was founded by Major Dan Rooney, an F-16 pilot who was inspired when he witnessed the fallen remains of a soldier being unloaded from a commercial flight.
Kevin and Ben shared thoughts about Ginger Gilbert Ravella (the third recipient of a Folds of Honor scholarship) and the story of her husband F-16 pilot Major Troy Gilbert.  Troy was killed in 2006 providing ground cover for US Special Forces in Iraq, leaving behind Ginger and five children.  It took 10 years for his full remains to finally be recovered.  Thanks to Ginger's tenacity, our nation was able to fulfill our commitment to leaving "no man behind". Major Gilbert is the only service member to be buried at Arlington THREE times.
We also discussed a very special gift given to the Gilbert family that involved an old pickup truck and country western star Lee Brice.
Folds of Honor grants approximately 5,000 needs based scholarships each year in two categories; higher education scholarships and Children's Fund Scholarships (K-12). The application window for the 2017-2018 award years is open February 1 – March 31.  More information and applications can be found at the Folds of Honor website.
Scholarship recipients include family members of persons who served in Vietnam up to present day.
Kevin emphasized that they receive many more scholarship requests than they can support each year.  Donations may be made directly via the website and he also encouraged listeners to research one of the many fundraising special events scheduled all across the country.
Podcast: Play in new window | Download (Duration: 45:48 — 8.5MB)