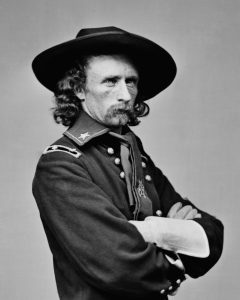 Few historical military personalities arouse more inspiration and controversy than George Custer. Most know about his defeat at the Little Bighorn, but not as many about his success as a cavalry commander during the Civil War.
We are joined by Eric Wittenberg, acclaimed and award winning civil war historian, author and lecturer.  Eric has authored 16 books about the civil war and focuses his topics on the lives of the average cavalryman during the war.  Three of his books deal specifically with George Custer and the stories of troops under his command.
George Custer graduated LAST in his class from West Point, accumulating a record 726 demerits. However, he was the youngest Union soldier to achieve the rank of general during the Civil War.  George Custer was not an officer who just ordered men into battle – he LED them into battle, very often at the very front of the charge.  During the Civil War, he had 11 horses shot out from under him but never received a serious injury or wound, inspiring the phrase "Custer's Luck". Although egocentric he was not shy about recognizing the good deeds and valor of his soldiers.
Custer played a key role in the battles of Tom's Brook were he faced off against his old West Point roommate Thomas Rosser.  This battle is considered the Union Cavalry's most complete and decisive victory during the war.  The rapid Confederate retreat became known as "The Woodstock Races".
General Sheridan presented the table upon which the Civil War surrender documents were signed to George Custer's wife in recognition of his role in the war.
Takeaway:  The union cavalry victory at Tom's Brook was due in part to greater numbers and better equipment. Ironically, in his defeat at the Little Big Horn George Custer was greatly outnumbered and his opponents were better equipped.
Podcast: Play in new window | Download (Duration: 39:08 — 7.1MB)