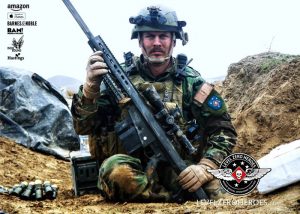 Michael Golembesky is a veteran of MARSOC and author or the best-selling book Level Zero Heroes. He joins American Warrior Radio a few days before release of his second book "Dagger 22".
A self-described "long hair hippy with a peace tattoo", Michael enlisted in the Marines shortly after the September 11 bombings.  His career led him into the newly formed Marine Corps Forces Special Operations Command (MARSOC) serving as a Joint Terminal Attack Controller.
The role of a JTAC is to "rain fire and brimstone down upon the enemy" by directing fire from various air assets including bombers, fighters, gunships and attack helicopters.
During his eight years in the Marine Corps Michael deployed to Iraq and Afghanistan. His fifth and final deployment was with Marine Special Operations Team 8222. His role with Team 8222 battling the Taliban in the Bala Murghab region was to become the basis for Level Zero Heroes and Dagger 22.
Bala Murghab was a region completely in control of the Taliban and an area where they would retire to wait out the winter. The loss of two 82nd Airborne troops would lead to a series of battles to cleanse the region of the Taliban.
His very first book caused quite a stir – Level Zero Heroes has been acclaimed as the "Catch 22" of this generation, referring to the famous World War II book authored by Joseph Heller.  Michael outlines his frustrations with the constantly shifting rules of engagement and influence upon his effectiveness as  JTAC.  In once incident a woman and child were claimed to have been killed by one of his bombing runs but it was later revealed they were assassinated by the Taliban for propaganda purposes.
TAKEAWAY:  We learn about a "warning bomb" from a B-1 bomber..something neither the host nor Michael had even heard of until he was ordered to direct TWO at enemy positions.
Podcast: Play in new window | Download (Duration: 40:45 — 7.6MB)