Past American Warrior guest Leo Jenkins has written about the distinction between a gladiator and a warrior. A warrior is a person who dons the uniform to wear on the field of battle and a gladiator dons a uniform to compete on an athletic field.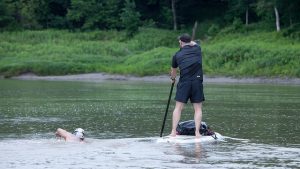 There are many cases of those who have been both. Pat Tillman gave up a lucrative NFL contract with the Arizona Cardinals to join the Army Rangers following the 9/11 attacks.  Dallas Cowboys quarterback Roger Staubach served a tour of duty in Vietnam.
There are also many gladiators who support warriors and this episode introduces American Warrior listeners to one of them.
Jeff Utsch is a swimmer that has been ranked in the Top 10 World Rankings, NCAA All-American, a Masters World record holder and was a four year member of the US National Swim Team.  For two decades he has trained Navy SEALS, Air Force Para Rescue, Marine Force Recon and Coast Guard members in specialized tactical swimming. He is also a noted constitutional scholar.
Jeff believes the definition of pursuit of happiness in life is the journey to reach our full measure as human beings.  He gets a great deal of joy from teaching warriors to become the best swimmers they can be.
At 48 years old, Jeff decided to take on the longest swim race in North America to help raise funds for the UDT-SEAL Association.  This non-profit association provides support for veterans of the Navy Special Warfare community and their families. Jeff swam 36 miles in 11 hours and 13 minutes to raise funds for the UDT-SEAL Association. Nine swimmers were not able to finish the race.
Jeff also talks about his unique relationship with members of the Special Warfare community and shares stories about Charlie Keating, the Navy SEAL recently KIA in Iraq.
So far, Jeff has raised $11,000 and listeners can still make donations by visiting www.jeffutsch.com.
Podcast: Play in new window | Download (Duration: 32:11 — 5.9MB)