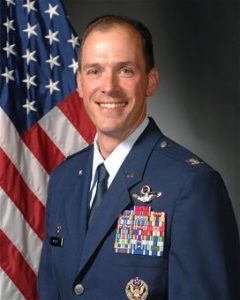 Colonel James P. Meger is the Commander of the 355th Fighter Wing, Davis-Monthan Air Force Base.
Davis-Monthan is one of the largest installation and flying operations in the Air Force, with 7.500 airmen, 3,200 civilian personnel and more than 100 aircraft.  It is the principal training base for all A-10 pilots. The base also hosts a number of tenant units such as the 12th Air Force Headquarters, various rescue squadrons and the "boneyard".
Meger is an Air Force Academy graduate. Among his numerous honors are the Legion of Merit, Distinguished Flying Cross with Two Oak Leaf clusters and a Bronze Star.  He was recognized co-winner of the Jolly Green Association 1999 Rescue of the Year.
Meger discusses his nearly 25 years in the Air Force and his pleasure at "topping off" his career as Commander of the 355th Fighter Wing.  As "Mayor of Davis-Monthan" he has many responsibilities. From assuring that his airmen are prepared physically, mentally, emotionally and financially for deployment overseas to maintaining and advancing relationships with the community of Tucson.
The 355th Wing has been recognized with several Air Force and Air Combat Command Awards including the Commander in Chief's Installation Excellence award as the best installation in the Air Force.
He also shares some of the things that have kept him awake at night as a Commander and how his collection of coffee cups actually represents "hoarded memories".
Podcast: Play in new window | Download (Duration: 39:54 — 7.3MB)