American Warrior Garage was inspired by a chance encounter in a department store parking lot. Scott Jones and his friend Vince Gibson had been restoring cars together for about 20 years. One day they noticed a Veteran who had lost both legs to an IED blast "wheeling around" Vince's 1969 El Camino. A conversation about classic cars ensued with the Veteran saying  "Man, I'd like to be able to drive one of those."   Both Scott and Vince are Navy Veterans and realized they had found a new mission for their auto restoration talents.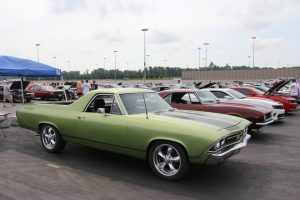 They incorporated American Warrior Garage as a non-profit with the mission of "Restoring Heroes' Lives One Hot Rod at a Time." They offer their programs to first responders and EMS personnel as well. Their first restore was a 1970 Chevelle for a double amputee Marine Corps Veteran.  They are currently working on a '68 Torino for a Veteran with five tours of duty. Scott admits that in the early days of the organization they were "just winging it" and the organization was funded out of their own pockets.
Scott tells the story of a 1962 Thunderbird owned by a Korean War Veteran and donated by the Veteran's family. The car was pristine so they cleaned it up and raffled the car as a fundraiser. They also do repairs on "normal" cars for donation to Veterans.
American Warrior Radio Garage was featured on two episodes of the "Garage Rehab" television program. As part of their mission to help reintegrate Veterans back into civilian life they are also trying to help Veterans get to the first level of Automotive Service Excellence certification.
TAKEAWAY: If you or someone you know has a vehicle sitting around, please consider donating it to American Warrior Garage. Any garage owners around the country who might be interested in joining the effort with a "satellite" program are also encouraged to contact Scott as well.
Podcast: Play in new window | Download (Duration: 42:01 — 7.2MB)