John Gilstrap always wanted to write.  He penned short stories as a young child and was editor of his high school newspaper.  But he was also an adrenaline junky. He regularly watched the television series "Emergency" and took an advanced first aid course in college. The class required a ride along and he was hooked. Upon graduating from college he received his EMT certification and joined the Burke Volunteer Fire Department – the busiest firehouse in Virginia.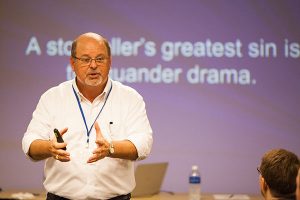 He says that as a firefighter/EMT you are often interacting with people on their worst day.  "It's THEIR bad day but I needed to keep it together and bring order to chaos."  While years of seeing these horrible scenarios can take a toll on one's psyche, he relates that he twice delivered babies and those were joyous occasions.
Gilstrap never dropped his love of writing and has become a prolific bestselling writer of several thriller series. "Blue Fire is his latest release and he is currently working on his 25th book.  One of his non-fiction books ("Six Minutes To Freedom") tells the amazing story of Kurt Muse, an American civilian jailed in Panama under the Noriega regime.  Extricating Muse from the notorious La Modelo prison was a priority mission during Operation Just Cause and one of the rare occurrences when Delta Force was sent in to rescue a civilian.
His first published book "Nathan's Run" became a worldwide bestseller but also one of the most banned books in America because it had a lot of bad language. This taught Gilstrap some valuable lessons and he shares advice for aspiring writers on his website.  We discuss when it is appropriate to include sex, violence and bad language.  "Sometimes a sex scene stops the plot." An example includes the experience he had with a director who insisted on a sex scene in the middle of a forest fire.  He also shares the importance of being able to deal with rejection. Gilstrap was rejected by 27 agents before he got his first offer.
TAKEAWAY: "In THIS business the only way to lose is to quit."
Podcast: Play in new window | Download (Duration: 41:50 — 7.2MB)