Easy Company was only one of the nine rifle companies that comprised the 506th Parachute Infantry Regiment in World War II.  However, they became the best known thanks to Stephen Ambrose's book and the HBO series "Band of Brothers".
Three guests join us to discuss Easy Company and their story;
Suzanne Ryan has been fascinated with WWII history since the age of 12.  She has led historical tours of Normandy and helped organized reunions of Veterans and actors who played them in the series. Suzanne has also edited several books about the European Theatre during the war. Everything she does to support Veterans is done on a completely volunteer basis.
Douglas Spain is an accomplished actor with over 69 credits.  He was selected to play Private Antonio Garcia in the Band of Brothers series.  He joined the cast late in production, which created some tension with other actors who were required to go through a two week training "boot camp" in order to prepare for their roles. This reality replicated his role as a paratrooper joining Easy Company as a "replacement".  Doug says that playing Tony Garcia in the series changed his life. "There was this weight that we all carried. It wasn't for HBO, it wasn't for Tom Hanks it was for the men of Easy Company – we had to honor them."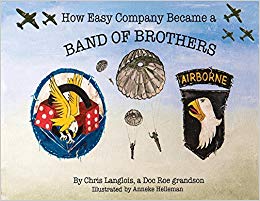 Chris Langlois is a Dallas Police Officer and grandson of Eugene "Doc" Roe, one of the Easy Company medics.  Chris has published the illustrated book "How Easy Company Became a Band of Brothers".  Chris regrets not getting to know his grandfather better as he was growing up but decided to publish the book as a passion project.  Chris shares some stories about "Doc" Roe and the men of Easy Company included silver service pieces from Hitler's Eagles Nest that were presented as wedding presents to "Doc" and his bride Vera.
TAKEAWAY:  "In a couple of years we won't have the men – we will only have their stories."
Podcast: Play in new window | Download (Duration: 48:18 — 8.3MB)