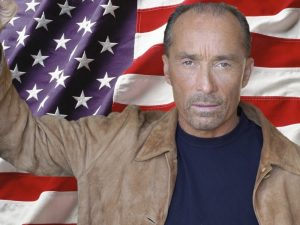 Lee Greenwood has had over two dozen songs on the billboard charts and SEVEN songs ranked number one.  But he will perhaps always be known for one song in particular; "God Bless the USA"
Greenwood was raised working on his grandparent's farm after his parents separated during WWII.  He pursued his passion for music from an early age and by the time he finished high school he had mastered most all the instruments in the orchestra.
He began working for the USO at the age of 14 and considers doing USO tours is a privilege.  He has more than 30 years of USO tours under his belt.
Greenwood composed "God Bless the USA" in one night and never intended it to be a record. The song was meant to be Greenwood's personal expression of how he feels about our country. Even though that song is only part of his work and he loves to write songs that move people, he proudly sees "God Bless the USA" as part of his legacy.
Greenwood is good friends with Gary Sinise and shares his opinion that we should NEVER forget how much freedom has cost us and the price of defending other nations as well.  In addition to his service with the USO, he is also involved in helping wounded veterans through the Helping a Hero organization. He encourages every American to do whatever they can to continue to support those who serve in our military.
Regardless of all the industry and music awards he has received, Greenwood ranks receipt of the Congressional Medal of Honor Society Patriot's Award as the highest honor ever bestowed upon him.
TAKEAWAY: "Always do something every single day to help someone else. Because if you are more fortunate than the next person, you owe it to that American to help them up a little bit."
Podcast: Play in new window | Download (Duration: 20:28 — 3.8MB)