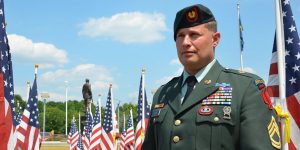 Members of our elite military units are trained to be prepared to Conquer Anything.  Greg Stube served 19 years as a member of the Green Berets and has written an outstanding book that translates the lessons he learned in the special teams to compelling ideas applicable to the civilian world.
Life has a way of shooting holes in our best laid plans. In Greg's case it was literal – a chunk of shrapnel the size of a plate passed through his hip and his abdomen during the Battle for Sperwan Ghar.  He wasn't expected to live but while recovering he found himself "on the bench" sooner than he had planned. This forced him to re-examine how he would move forward in life as a different kind of warrior.
Among his objectives in writing the book, Greg said he hopes to demystify the some of the special operations images civilians might see in movies. "If you take the pressure of battle away. If you take the life and death risks and threats away, it boils down not to military stuff but human stuff. We all know that the human terrain is the most difficult to navigate."
A unique quality of the Green Beret A-Teams is that the teams themselves have the responsibility for planning the mission once the objective is sent down from higher command.  Moving from an idea to an objective to the successful execution of the mission involves elements of leadership, team building and communication that are directly applicable in the business world. Conquer Anything is replete with lessons that all of us can learn from and apply in our jobs and families.
Some of the concepts we explore during our discussion include how to avoid the massive graveyard where good ideas go to die and the responsibilities of leadership.
I found myself highly engaged by the book and have put the now heavily dog eared copy on my reference shelf.  I highly recommend that listeners pick up a copy of Conquer Anything.
TAKEAWAY:  "Americans living their dreams and being their best is what this beautiful model of freedom worth fighting for."
Podcast: Play in new window | Download (Duration: 21:47 — 4.0MB)