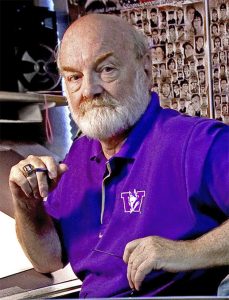 Michael Reagan has drawn more than 2,000 portraits of celebrities and other notable persons. But this world renowned artist made an open ended promise to President George W. Bush after the 9-11 attacks.  He has fulfilled that promise by providing free hand drawn portraits for Gold Star families through his Fallen Heroes Project.
He joins us to share his thoughts on Memorial Day.  His mission is to never forget and never let anyone else forget as long as he has a voice.
The first portrait Reagan did was for the wife of Corpsman Michael V. Johnson.  She wanted to commission Reagan to do a drawing but he would not accept payment.  Since that first work, he has drawn over 5,400 portraits free of charge for the families of the fallen. His portraits have also raised in excess of $10 million for various charities.
Each portrait takes anywhere from 5 – 7 hours because Reagan because he "is in a conversation with the person he is drawing."  Many family members have told him that the portrait has been a critical element in their healing process.
Michael will do one free portrait for everyone who has died in the war on terror or killed in a terrorist act. This includes those who have taken their own life.  Families may begin the process by sending a note to fallen.heroes@hotmail.com
Michael does not put names on his sketches.  He wants people to look at those faces and memorize them. They don't have to know who it is but they must remember that face.
For his service and support, Reagan has received several awards including the Congressional Medal of Honor Foundation Citizen Service Before Self Honor medal and the Patriot of the Year award from the American Legion.
Reagan volunteered to serve during the Vietnam was because he felt it was his duty to do so. He joined the Marines because he says he wanted to serve with the best.  While in country, he would draw portraits of his fellow service members on C-Ration boxes.
TAKEWAWAY:  "I hate the fact that I have to do this, but I love the fact that I am."
Podcast: Play in new window | Download (Duration: 40:26 — 7.5MB)