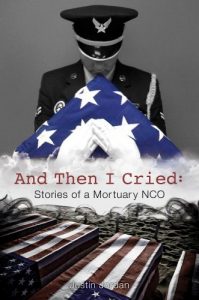 Justin Jordan spent six of his 20 years in the Air Force as a mortuary technician and it had a profound effect upon his mental well being.  His experiences are recounted in his book "And Then I Cried; Stories of a Mortuary NCO".
Like many people, Justin wanted to get out of his small town so he joined the Air Force.  He was assigned to the services career field, a "jack of all trades" assignment that includes cooks, hotel management, recreation and even bartenders. It also includes one specialty that no one wanted to discuss – mortuary technicians.
As a mortuary NCO it was Justin's responsibility to make sure our warriors and their families were treated with the utmost in dignity and respect.  He treated each one of them as if they were his own blood brothers. This included making sure any personal effects were in proper condition to be delivered to next of kin in such a way that they wouldn't compound the trauma.  Justin recounts one instance when he was cleaning a cell phone when it received an incoming called from the mother of the deceased.  It seemed like the longest, loudest ring tone he had ever heard because he knew that she had not yet been notified about the death. That experience left a mark on his soul that was unrepairable.
While he never went "outside of the wire" on his several deployments, death was constantly looking over his shoulder and into his eyes. It wasn't long before Justin avoided looking people in the eye because he would often get a mental image of them on the mortuary table.
Following an evening when he found himself 100 miles from home with no recollection of how he got there, he knew he was having problems.  However, he hesitated to seek help because at that time it was considered a career killer.  He would eventually seek treatment and became the first member of our armed services to be approved to serve with the aid of a service dog.
Justin now works as an advocate for others suffering from PTSD through the Warriors Heart Foundation.
TAKEAWAY:  "Sometimes we do more harm by suppressing our emotions as opposed to allowing ourselves to feel them and move on."
Podcast: Play in new window | Download (Duration: 44:42 — 8.2MB)