Jay Dobyns is more than qualified to be called a "sheepdog".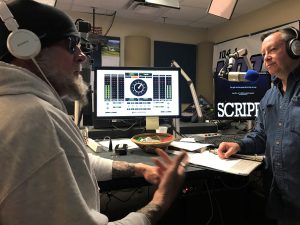 During his 27 year career as an undercover ATF agent Jay did not wait for the wolves to come to us, he entered their dens and ran as part of their packs. Jay shares some amazing and enlightening insights.
He participated in over 500 undercover operations including working his way into the inner circle of the Hells Angels.  That journey was chronicled in his book "No Angel", a New York Times bestseller.
Following a stellar collegiate football career, Jay joined the Bureau of Alcohol Tobacco and Firearms. He started work on Monday and on Thursday was shot in the back and bleeding to death in the dirt and garbage of a trailer park.
He is the founder of the Jay Dobyns Group, a firm that provides covert ops training for undercover officers and their supervisors.  He shares that one of the most critical elements for these personnel is the ability to hide their fear and carry on with confidence. Similar to Dale Dye, he also provides authenticity consulting to film companies and just completed work on the film "Den of Thieves".
Jay Dobyns experienced many dangers but one of the greatest was "losing himself" after so many years deep under cover.  The role he played became who he was and not his job, inflicting secondary damage upon his family.  Because he has personally wandered these dark passages, Jay dedicates much of this time to supporting various organizations that provide support to Law Enforcement personnel experiencing trauma, stress and depression. He specifically partners with  The Institute for Responder Wellness and Safe Call Now.
TAKEAWAY: "Sacrificing and being part of something where there is a greater good involved causes you..forces you to be humble and gracious because you know that regardless of how amazing you might be individually you are still only as good as the people that surround you."
Podcast: Play in new window | Download (Duration: 47:18 — 8.0MB)