Boulder Crest Retreat's motto is "Healing Heroes. One family at a time."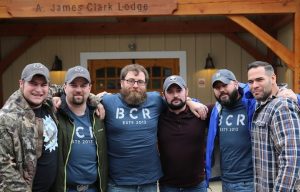 Their innovative post traumatic growth curriculum has helped over 3,000 warriors and is showing amazing results.
Josh Goldberg, Director of Strategy for Boulder Crest Retreat shares more information about this pioneering initiative and how it is helping warriors, first responders and their families. Their programs are offered free of charge to participants.
After retiring from a 21 year career in the Navy, explosive ordinance disposal technician Ken Falke found himself regularly visiting the bedsides of fellow EOD warriors injured in the war on terror. These experiences led him to create the EOD Warrior Foundation and witness firsthand the desolation and frustration experienced by these personnel during their recovery in DC area facilities.
On occasion, he and his wife Julia would invite these warriors out to their home on 37 acres of Virginia pasture. In 2010 he came home to find his wife and a friend sitting at a table with 3 empty bottles of wine and a hand drawn diagram of a plan to convert their pasture into a retreat for these recuperating warriors. Boulder Crest Retreat was born.
Over 2.7 million warriors have been deployed since September 11th, a number equivalent to the entire population of the city of Chicago. It is estimated that 700 thousand of these personnel suffer from PTSD or undiagnosed combat stress.  Often overlooked is the fact that combat related stress is also contagious across the entire family. Considering an average family unit of three persons, the number of our neighbors affected by this stress is closer to 2.1 million.
Boulder Crest Retreat's main programs were designed by combat Veterans for combat Veterans and are distinguished by their non-clinical approach and emphasis on creating sustained results.  Their results speak for themselves; 40 – 60% sustained reduction in PTSD symptoms, 50% reduction in depression and an amazing 84% remission rate versus the 2% rate in "traditional" programs.
Warrior PATHH (Progressive and Alternative Training for Healing Heroes) is an 18 month program that begins with a 7 day intensive retreat at one of the Boulder Crest facilities and continues with regular follow up.  They do not see themselves as a "catch and release" program.  They also offer PATHH programs for couples, family members and caregivers.
Boulder Crest is entirely privately funded are Josh encourages anyone interested in their programs to contact them directly at info@ bouldercrestretreat.org
TAKEAWAY:  "If you are a combat Veteran, first responder or a family member and you don't have the life you want – if you are struggling, hit us up..we are here for you."
Podcast: Play in new window | Download (Duration: 40:32 — 7.6MB)