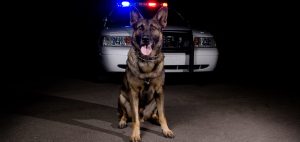 The men & women of Law Enforcement are the thin but resilient blue thread that binds the fabric of any decent and civilized society.  On any given day they may be called upon to help bring a life into our world, to save a life, or to take a life.
Bonnie Faircloth is the Executive Director of the Southern Arizona Law Enforcement Foundation.  Their mission is to raise funds to acquire or supplement the purchase of critical lifesaving equipment, technology and ongoing officer safety training. They protect and support those who protect and serve.
Bonnie has a special passion for the SALEF mission; her husband recently retired from the Sheriff's department.  She knows what it was like to hold her breath when her husband left for his shift and breathe a sigh of relief when he returned safely.
Since their inception, they have provided over 400 bullet proof vests for patrol officers, helped to acquire a K-9 dog and paid for officers to travel for essential duty training. They also conduct a program called the Safe Teen Accident Reduction Training Program which provides hands-on life saving driving skills and training.  Bonnie said she has had parents call to state that the training helped their child avoid and accident immediately after the program.
The Southern Arizona Law Enforcement Foundation organizes several major fundraising events that not only help subsidize their programs but provide a good forum for the community to get to know members of law enforcement.  Some of these include the annual "Cops and Rodders" car show and "Canine Walk for Cops".
Bonnie emphasizes that one of the elements that makes SALEF somewhat different from other similar agencies across the country is the fact that their Board of Directors is truly community based. While there are Law Enforcement Veterans involved in leadership, there is a clear delineation between themselves and the agencies they serve.
If you do not have a similar organization in YOUR community and would like to explore how to get one started, please contact SALEF via their website.
Podcast: Play in new window | Download (Duration: 37:08 — 7.0MB)