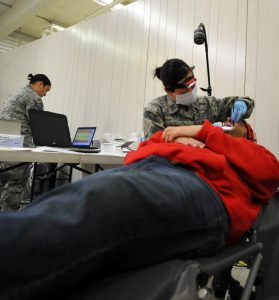 The Innovative Readiness Training Program is a unique initiative that provides high quality, mission essential training for active duty, guard and reserve personnel while contributing to domestic public and civic needs.
Four members of our armed services phone in to American Warrior Radio to share more information about this great program and their personal experiences during "Arctic Care" in Kodiak , Alaska.
In 2016 the Innovative Readiness Training program carried out 30 projects across the US with Secretary of Defense Support – these led to another 12 independently supported projects.  Of the 30 funded projects, 14 were construction projects, 15 medical projects and 1 was a transportation project.
Major Anna Hill, the IRT Program Manager for Air Force Reserve Command shares some history and background on IRT and Arctic Care exercise.  150 military personnel representing every branch of the military are providing dental, medical, optometry and veterinary services to underserved populations in and around Kodiak.  Arctic Care is the "capstone" of IRT this year  involving nine months of planning and all the logistics that would normally be involved with a deployment.
Senior Master Sergeant Amy Stultz (940th Aerospace Medicine Squadron) shares the logistical challenges of setting up programs that assist not only the residents of the town of Kodiak but also the five teams establishing clinics in remote villages in the region.  She emphasized that the exercise also provides excellent training opportunities for logistical support personnel like communications, air lift crews, etc.
Captain Anna Cruz (624th Aerospace Medicine Flight) is a nurse practitioner who volunteered for Arctic Care.  She shares the story of one man who had not seen a doctor in 10 years but was experiencing chest pain.  Captain Cruz identified a serious issue and the patient was airlifted immediately to a hospital for potentially lifesaving heart surgery.
Hospital Corpsman 3rd Class Kiara Schuster (Expeditionary Medical Facility Great Lakes Det. Oscar) is participating in her first Innovative Readiness program.  Her current civilian job is in child care but after her experiences during Arctic Care she is considering entering the dental field.  She is confident that the training she is receiving during this exercise will definitely make her a better corpsman when she is deployed.
TAKEWAY: " The commitment you make when you put the uniform on is a commitment to something greater than yourself."
Podcast: Play in new window | Download (Duration: 46:35 — 8.8MB)