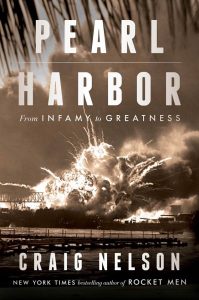 Pearl Harbor, From Infamy to Greatness by best-selling author Craig Nelson is a real page turner!
Five years of research and over 1 million pages of documents expose perspective and details that even well-read fans of World War II history will find enlightening.
Craig delves into highlights from his book including the chaos in Japan that led to the ultimate decision to attack Pearl Harbor.  From conflicted military leaders to a revolving door of prime ministers, one gets the impression that war with the US was an unfortunate but natural result of decisions made in both Japan and the US.  We also get to meet some intriguing characters such as Finance Minister Okinori Kaya; a real thorn in Prime Minister Tojo's side who insisted that no one should go to war without first making a budget.
We also learn that warnings about the attack were plentiful. From a direct warning from the Peruvian Ambassador that Japan would attack Pearl Harbor if negotiations broke down between the two countries to the fascinating story of Serbian triple agent Dusan Popov ( upon whom the James Bond character was based) whose warnings were ignored by J. Edgar Hoover because Popov was a notorious playboy.
Craig also shares both heartbreaking and heartwarming stories direct from the personal recollections of military personnel on both sides of the conflict.  Unrecognized heroes such as the salvage and shipyard workers that had most of the fleet considered "destroyed" during the Pearl Harbor attack back in the war before its end.
His book also provides very touching accounts of the battle's participants after  the war; from a Japanese pilot inspired to go into missionary work by one of the Doolittle Raiders to Kenji Abe, a dive bomber pilot who spent much of his post war years trying to make apologies and amends to US Pearl Harbor survivors.
Takeaway:  It was the attack on Pearl Harbor that led the US into its status as the premier global superpower, a position we have maintained for seven decades.
Podcast: Play in new window | Download (Duration: 45:17 — 8.4MB)