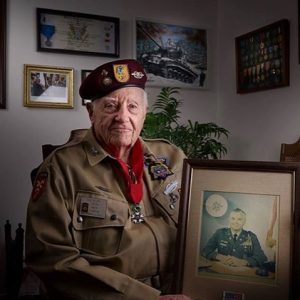 Douglas Dillard convinced his mother to let him enlist on July 3rd, 1942 when he was still 16 years old. He spent a number of Christmas holidays away from home – the Battle of the Bulge was his first.
Dillard made his first combat jump into France as part of the 551st Parachute Infantry Regiment one month shy of his 18th birthday. He is proud that his company captured TWO German Generals within 24 hours of landing. One of those generals complained that he couldn't properly surrender because "..one of these ruffians took my pistol". That pistol still resides in Doug's gun safe.
His division went on to liberate Cannes and Nice before being sent to Northern France to rest and re-equip. However, in Douglas' words "Adolph Hitler ruined my trip to Paris."  His group was recalled and informed that the Germans had broken through in the Ardennes and "..we don't know where the front lines are."
Dillard and his comrades loaded into flatbed trucks and while headed north he says he saw allied troops and tanks moving south. "I wondered what was wrong with this picture – they are going one way and we are going the other."
On Christmas Eve his divisions was preparing for a counter attack but was ordered to return and were then ordered to perform the very dangerous mission of infiltrating behind enemy lines to capture German prisoners. Doug says they didn't mind because without proper cold weather gear and bivouacked in the open, "Doing anything was better than doing nothing." Their Christmas dinner consisted of "some frozen turkey parts".
Douglas Dillard also participated in "A real mad moment" – one of the last bayonet charges of the war.  The 551st entered the Battle of the Bulge with 800 officers and men and by Jan. 8th only 14 officers and 96 enlisted remained.
Dillard served 35 years in the Army and went on to conduct special clandestine missions in both Korea and Vietnam.  He has been inducted into the Military Intelligence Corps Hall of Fame.
Podcast: Play in new window | Download (Duration: 39:24 — 6.8MB)