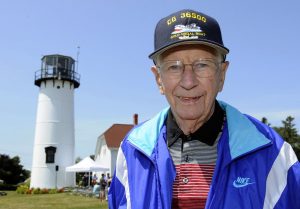 Local fishermen called it a suicide mission – but it would turn into the greatest small boat rescue in Coast Guard history. Two tankers had broken in half off of Cape Cod. Four men would head to sea in 80 mph winds and 60 foot waves to save the remaining crew of the Pendleton. They were sailing a 36 foot wooden single engine boat.
Coast Guard Petty Officer Bernard Weber was ordered to take a boat out, but the rest of his crew all volunteered. Andy Fitzgerald was the lowest ranking engineman at the Chatham station.  But he REALLY wanted to participate in this rescue.
The rescue boat was beaten by waves, losing their windshield and compass.  The rolling seas also kept knocking out their engine. Andy had to head down into the engine compartment several times to restart the engine, receiving burns and bruises.
Despite navigating at night without compass or radar, they located the Pendleton. Andy's first thought was about how they were going to get to the survivors off a ship 30 feet higher than their own.
With their boat already at twice their capacity and 8 Pendleton crew members still needing rescue, Petty Officer Weber declared that they were either all going to live or all going to die. "Tiny" Meyers was the only Pendleton crew member lost. Andy had ahold of his hand but was unable to pull the 300 pound Meyers into the boat and he slipped away. Andy still thinks about him today.
This amazing rescue was memorialized in the Disney movie "The Finest Hours."
Andy recounts "If you have a hard job, well just say to hell with it – I'm gonna go do that job and you'll be surprised at what you can do."
Even though he is in his 80's he says he would mind doing it again. But he should probably check with his wife first.
Podcast: Play in new window | Download (Duration: 35:31 — 6.4MB)