SecureIt Founder and CEO Tom Kubiniec had planned to be a rock star – literally. He started playing guitar at 12 and was performing regularly in local nightclubs by the age of 16. He moved to Hollywood to pursue a music career. Guitar Player Magazine has just done a feature article on Tom when he developed tendonitis, ending his guitar career.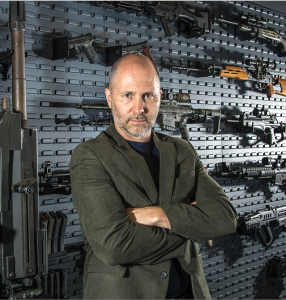 He took a job marketing computer printer supplies and then started his own company. He branched into selling racks to store computer tapes and built the company into one of the largest in the country.  In 2002 he got a phone call asking if he could make racks to store MP-5 machine guns. The caller was with the FBI. He did some research and found that armories across the country were failing – they had not kept up with the changes in weapon systems.  Tom called his partner that was making the computer racks and found the HE had just received a similar request from the Canadian military.
He became aware of a government solicitation to review the status of their armories so Tom arranged for a meeting with a commander at Fort Bragg. Tom says that even though "None of us knew what we were doing"; he introduced himself as the leading authority in small arms storage and armory design. They won the contract and he spent the next 18 months visiting Special Forces armories all across the country. He launched his open architecture system in 2008 and by 2011 SecureIt was the largest supplier to the US military.
Government budget sequestration hit his company hard and convinced Tom he had to diversify into the consumer market as well. Tom shares some of the most common misconceptions about gun safes and the importance of what he calls "decentralized storage".
TAKEAWAY:  "No matter how good we were, if Congress turned off the faucet, we were dead in the water – we were not in control of our own destiny."
Podcast: Play in new window | Download (Duration: 39:50 — 9.1MB)