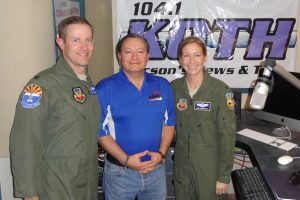 The Distinguished Flying Cross was established to recognize any member of our armed services who distinguished themselves by "heroism or extraordinary achievement while participating in an aerial flight."
Colonels Kim and Scott Campbell are both Air Force fighter pilots, both fly A-10 aircraft, they are married and..they both have been awarded the Distinguished Flying Cross.
On April 7, 2003, then Captain Kim Campbell was flying a combat air support mission over Baghdad.  While exiting the area, her aircraft was hit by a missile.  The plane lost all hydraulic functions and nosed over toward the ground.  Captain Campbell put the plane into manual reversion and regained.  An inspection by her flight leader left her with two options; fly to a safe area and eject or attempt to return to base and land the aircraft.  Manual landings of A-10's had only been performed a few times, in one instance killing the pilot.  Campbell chose to complete the one hour flight back to base and performed what witnesses described as a textbook landing – even though she lacked brakes.  For her actions Campbell was awarded the Distinguished Flying Cross with Valor device.
Captain Scott Campbell earned three Distinguished Flying Cross awards over the course of four days.  His first was earned while flying air cover during the battle of Takur Ghar in Afghanistan.  The battle resulted from the forced crash landings of several helicopters carrying Special Forces personnel.   Numerous aircraft were sent in to provide air support, resulting in a great amount of confusion.  After a near miss with both a Navy aircraft and a Predator UAV and having a B-52 Bomber drop bombs through his formation, Campbell and his wingman decided to take a more proactive role as forward air controllers.  For coordinating these attacks and killing several hundred enemy personnel engaged with friendly forces, Captain Scott Campbell was awarded his first Distinguished Flying Cross.
Interview takeaway: "Our job is to support the troops on the ground and we will take risks to do that."
Podcast: Play in new window | Download (Duration: 36:40 — 6.8MB)