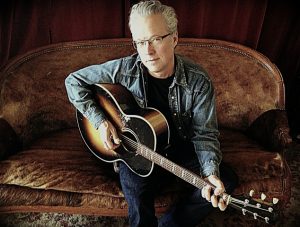 A conversation with a National Guardsman in an ice cream parlor inspired Darden Smith and his friend Radney Foster to write the song "Angel Flight".  This haunting song soon became an internet sensation and led to the foundation of a very unique service organization that helps Veterans cope by expressing their feelings through song.
On September 17, 2008 a Chinook helicopter from the Texas National Guard General Support Aviation Battalion – call sign Red River 44 – was one of four helicopters flying from Kuwait to Balad, Iraq. Red River 44 went down in bad weather shortly after midnight on September 18th, killing all 7 crewmembers aboard. It was the largest single day loss of the life for the Texas National Guard since World War II.
Austin based singer/songwriter Darden Smith had struck a relationship with a commander in the Texas National Guard who shared the story of Red River 44 and the Angel Flight that brought their bodies home.  Smith knew he must translate it into a song and, working with his friend Radney Foster, they composed the song in 30 minutes.
With more than 13 of his songs having ranked in the top 40, Foster shared "I have been performing for decades, but singing Angel Flight at the dedication of the Red River 44 memorial was one of the most difficult performances I have ever delivered."
Driven by the response to "Angel Flight" Smith was then inspired to establish a new initiative called "Songwriting With Soldiers".  The non-profit program pairs veterans and active duty service members with professional songwriters to craft songs about their military experiences.  The volunteer composers/songwriters have hundreds of top music hits to their credit. Much of their funding comes from the Bob Woodruff Foundation.
Radney Foster said very often the words or topic of a song just jumps right out during the conversation with the Veterans, as was the case with "Half Horse Town".
Podcast: Play in new window | Download (Duration: 41:20 — 7.6MB)