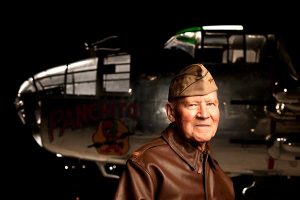 This morning I was saddened to hear the news of the passing of Staff Sergeant David Thatcher, one of only two remaining members of the original 80 Doolittle Raiders. Then Corporal Thatcher was the engineer/gunner on the crew of the 7th aircraft, "The Ruptured Duck". (Interesting feat given that the tail guns were replaced with painted broom sticks in order to save weight!) After successfully dropping their bombs on industrial sections of Tokyo, they were forced to ditch their aircraft just off the Chinese coast.  Thatcher was the only crew member not injured. The aircraft's pilot, Lt. Ted Lawson suffered severe injuries that required his leg to be amputated in the field.  Upon his return home, Lawson would author the book "Thirty Seconds Over Tokyo".
One of the joys and honors of hosting a military radio show is the opportunity to talk directly to those veterans who have made history. For someone like me, this is the equivalent of sitting down over a beer with an MLB all-star or former President of the US.
As a member of the community that donated the silver goblets used in the famous Doolittle Raiders reunion toasts, I have always felt a special connection to their story. This was further reinforced during my term as Honorary Commander to General Robin Rand and the 12th Air Force. General Rand is a big believer in reminding young airmen of their historical roots and the 12th's connection to General Jimmy Doolittle was a strong one.
Thatcher's passing leaves Lt. Col. Richard Cole as the sole surviving Raider.  Cole was Doolittle's co-pilot in the first bomber to leave the deck of the USS Hornet. One of the greatest honors of my life was to spend an hour with Dick discussing the famous mission. Much like present day warriors, his humility and simple devotion to his duty was inspirational. He talked about flying 200 feet above choppy waves, with full knowledge they did not have sufficient fuel to complete the original egress plan as you or I would talk about a trip to the neighborhood market.
You can hear Cole's interview here.
Godspeed Sergeant Thatcher! Thank you for your service!