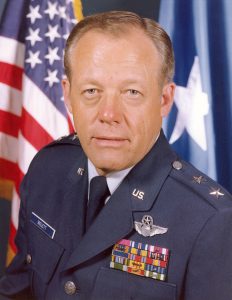 Russ Violett was raised on a Montana farm.  Much of his early life was spent with oil burning stoves, gas burning lamps and an outhouse.  He considered the Air Force as a reasonable escape route from the frigid Montana winters. Little did he know that this decision would take him to the much warmer jungles of Southeast Asia and the deserts of Saudi Arabia before he retired at the rank of Major General.
Violett's squadron would be assigned their first combat mission over Vietnam only two days after arriving in Thailand. They were flying the F-105 "Thud" – an aircraft first designed for high speed, low altitude delivery of nuclear weapons.
One particular mission involved the first ever strikes Surface to Air missile sites in North Vietnam.  Russ Violett was among a group of pilots ordered to attack two SAM sites. Six pilots would not return from that mission.  The attack run was planned for an altitude of 100 feet at a speed of nearly 600 miles per hour.  Violett had to fly so low avoiding anti- aircraft fire and incoming planes that he scrapped the tops of banana trees.
In his chapter of the "Friday Pilots" book, Russ would later describe that mission as "six hours of hell." His wingman was flying his first ever combat mission and, upon landing, asked "My God, are they ALL like this!?"
That would not be Russ Violett's only brush with danger. During a training flight out of Nellis Air Force, his plane caught fire upon take off.  He ejected well below the recommended minimum altitude and sustained his only injury by bumping his head on a rock AFTER he was safely back on the ground and free of his chute.
Russ Violett would receive several major decorations including the Legion of Merit and Distinguished Flying Cross during his Air Force Career.
Podcast: Play in new window | Download (Duration: 41:53 — 7.6MB)