William Shatner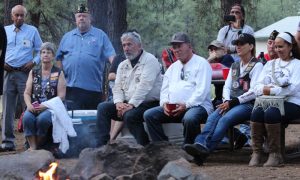 rode 2400 miles across America to raise awareness about the American Legion and it's programs.  Along the way he found exhaustion AND inspiration.
The Canadian born actor, author, musician and commercial pitch man began his career in radio. He moved to the stage performing Shakespeare and debuted on Broadway in 1956. His big screen career started alongside Yul Brynner in "The Brothers Karamazov" and his first role as a military officer came in the 1961 film "Judgement at Nuremberg".
Shatner was first cast for the second pilot of the TV series Star Trek and continued in the role of Captain Kirk from 1966 – 1969.
When Shatner became a partner in the new "Rivet" motorcycle venture, it was decided to do a cross country ride to promote the new bike.  The route would partially recreate the course Shatner hitchhiked along Route 66 between high school and college. Realizing they would need some logistical help with the motorcycle journey, the American Legion Riders seemed a natural partner organization.
William Shatner was joined by American Legion Riders throughout his journey. Among them was Bill Sloane, American Legion Assistant Director for Internal Affairs.  Others included; Mick Sobczak (President, American Legion Riders California), Roy Castaneda (American Legion Riders Chapter 852) and John Moffitt (American Legion Riders National Committee member)
Podcast: Play in new window | Download (Duration: 44:02 — 8.0MB)