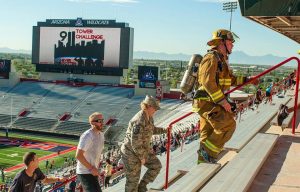 Three guests discuss the thirteenth anniversary of the 9/11 attacks.
In this hour, Robert Brandt from the Tucson Police Department and John Gulotta from the Tucson Fire Department talk about the "Never Forgotten 9/11 Memorial Tower Climb."
The Tower Climb will be held at Arizona Stadium on September 11th. Law Enforcement, firefighters and members of the military will climb 2,071 stairs to memorialize the number of flights climbed by first responders at the World Trade Center. Some of the Tucson Firefighters will be making the climb in full response gear.
The Tucson event began when members of the Tucson Police SWAT team did a local climb on the 10th Anniversary of the 9/11 attacks.
The mission of the event is to assure that Americans never forget the tragic events of 9/11 and the heroes that helped save lives that day AND to honor the first responders and military personnel who continue to support our nation and communities to this day.
The Tower Climb will raise funds for two charities. The 100 Club of Arizona which provides support for the families of law enforcement and firefighters severely injured or killed in the line of duty. The Arizona Fisher House will provide free lodging for veterans and their families receiving treatment at the Southern Arizona Veterans Administration hospital.
In the second half of the hour, retired New York policeman and fireman Dan Rowan tells listeners what it was like to actually be there on 9/11 and introduces us to some of the firefighters who lost their lives.
Podcast: Play in new window | Download (Duration: 46:36 — 42.7MB)