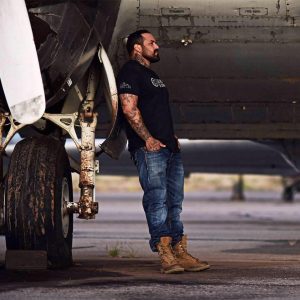 "Rocco" has had some ups and downs.  But his work ethic and indomitable spirit have led Vince Vargas to be one of the most hardworking Veteran entrepreneurs we have ever had on the show.
His father started him playing baseball at the age of 4 as a way of keeping him out of trouble.  Rocco became sufficiently adept to earn a college baseball scholarship. But he still had a lot of growing up to do and a lack of focus in the classroom led him to academic ineligibility and the loss of his scholarship.
The military seemed a good option – the Navy SEALS weren't interested but the Army was.  Rocco did three tours of duty as an elite Army Ranger and still serves in the Army Reserve as a drill instructor.
A series of tongue in cheek videos with fellow Ranger Mat Best soon led to the creation of Article 15 clothing company and a number of related businesses.  Things took off so fast that Rocco had to resign from his job as a Border Patrol Agent to dedicate himself full time to these new ventures.
Vince Vargas has written, produced and acted in several film projects, including the recently released "Range 15", a satirical Special Forces take on the zombie apocalypse genre.  Range 15 is one of the most successful crowd sourced film productions, generating over $1 million in production donations.
When Rocco isn't giving cooking tips on his "Recipes with Rocco" videos, he is travels as an inspirational speaker and writes for the Havok Journal.  His recent article "How Baseball Prepared Me to be an Army Ranger" is a particularly good read with lots of life lessons for Veterans and civilians alike.
Takeaway:  "If you strike out on life at least go down swinging.  Don't take your bat and go home – we need you on our team."
Podcast: Play in new window | Download (Duration: 40:16 — 7.4MB)