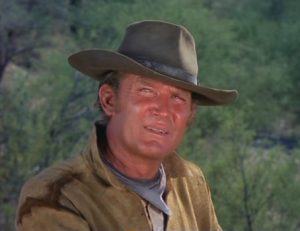 Don Collier enlisted in the Navy while he was still in high school.  But by the time he became eligible at 17 years old, the Second World War had been over for two months.  Nonetheless, Don completed his commitment to the Navy, serving aboard the light cruiser USS Astoria.  He volunteered for duty peeling potatoes in the ship's "Spud Shack" because at least that got him up onto the deck level of the ship.
Don accepted a football scholarship following his Navy and Merchant Marine service, but admits he wasn't a very good student. He had experienced a taste of Hollywood and so that is where he focused his energies.  By the time Don Collier's acting career was wrapping up, he would have credits in over 200 film and television programs.
Over his career he worked with the likes of John Wayne, Robert Mitchum, Anthony Quinn, Tom Selleck, James Arness and even Elvis Presley.  Don worked in radio as well and was Don Fred Imus' sidekick in the weekly show "Fred's Trailer Park Bash".  We presented Don a pack of Hubba Bubba bubble gum in studio in recognition of his famous role as "The Gumfighter" in their television commercials.
One of his most recognized roles was as Sam Butler in the television series High Chaparral.  Many of the High Chaparral cast members were also veterans; Lief Erickson, Frank Silvera and Rodolpho Acosta served in the Navy during World War II. Cameron Mitchell was a WWII bombardier and Bob Hoy served in the Marines during the Second World War.  Even younger cast members like Mark Slade served in the Army Reserves.
In addition to sharing his appreciation for his fellow veterans and those who continue to serve, Don Collier shared some tips for aspiring actors;
Be on time
When the Director yells "cut" don't leave the set. Some of Don's best leads came from hanging around the director rather than heading back to his trailer.
Remember that no matter how hard it gets, you ARE getting PAID to act.
Podcast: Play in new window | Download (Duration: 40:42 — 7.3MB)