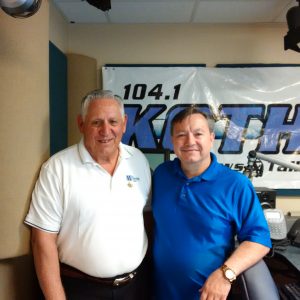 The Distinguished Flying Cross is one of the highest medals that can be awarded for aerial combat.  It is awarded for "Heroism or extraordinary achievement while participating in an aerial flight." Martin Lenzini was awarded FOUR DFC's during a 13 month tour of duty as a Marine pilot in Vietnam. One of these close air support missions epitomized the word "close" when he dropped bombs with pinpoint accuracy within 80 yards of friendly forces.
Did you know that actor Clark Gable received a Distinguished Flying Cross as an aerial gunner in World War II and his separation papers were signed by a young Captain named Ronald Reagan?
Marty joins American Warrior Radio to share some of his stories of those who have earned the Distinguish Flying Cross and inform our listeners about the Distinguished Flying Cross Society; from Charles Lindbergh, the first recipient of the DFC to Amelia Earhart, the first woman and one of only a few civilians to receive the medal. He also shares the story of other notable recipients including Francis "Gabby" Gabreski (the European Theatre's leading ace, one of only 7 men to become an Ace in both WWII and Korea and the recipient of 13 DFC's), President George H.W. Bush, John McCain and Joe Foss.
The actual number of DFC's awarded is unknown. Part of the mission of the Distinguished Flying Cross Society is to collect the stories of these heroes so they can be preserved and serve as inspiration for future generations of flyers. The society also grants scholarships to children of DFC recipients. If you have a story to share OR would like to make a donation, please visit their website dfcsociety.net
Martin Lenzini is President of the Distinguished Flying Cross Society Tucson Chapter and also a member of the "Friday Pilots" group.
Podcast: Play in new window | Download (Duration: 42:48 — 7.8MB)