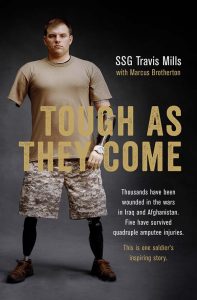 On April 10th, 2012 Staff Sergeant Travis Mills of the 82nd Airborne was on his third tour of duty in Afghanistan when he was wounded by an IED. The explosion took portions of both arms and legs. He would become one of only five quadruple amputees from Iraq and Afghanistan to survive his injuries.
The heroic efforts of men in his unit and teams of surgeons would save his life. But it was up to Travis to rebuild his spirit. He first told his wife to take everything and go on with her life. Instead, with her steadfast support and that of other wounded veterans, Travis worked through the painful and often frustrating road to recovery. He had to teach himself many of the simple movements most of us take for granted.
His amazing spirit and contagious sense of humor has made him a popular motivational speaker. Travis has been featured on both local and national news programs and authored a book about his injuries and recovery.
In 2013 he founded the Travis Mills Foundation, which benefits and assists wounded and injured veterans.
One of the few times Travis got choked up was when he and his family were gifted a smart home by the Gary Sinise Foundation.
His successful battle to overcome his injuries and begin a new life can be summed up in his own words: "I am NOT wounded. I WAS wounded – NOW I am a recalibrated soldier".
Podcast: Play in new window | Download (Duration: 46:58 — 8.0MB)