"Jet Girl: My Life in War, Peace and the Cockpit of the Navy's Most Lethal Aircraft" is an autobiography of Caroline Johnson's path to becoming one of the first women to drop bombs on ISIS fighters.   While the book has plenty of combat stories, the central theme describes the challenges faced by Caroline in her quest to join the community of elite jet fighters.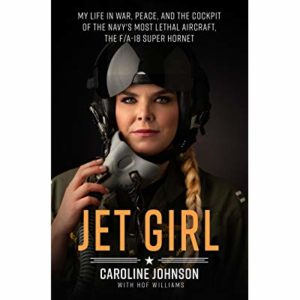 Following graduation from the US Naval Academy, she was assigned as a Weapons Systems Officer (WSO) on the F/A-18 Super Hornet. The role of the WSO is to manage both the sensor and weapons systems and serve as navigator.
The Super Hornet is one of the world's most advanced aircraft. It's awesome capabilities were demonstrated during the early days of the Gulf War when two F/A-18's on a mission to bomb an airfield engaged and destroyed two Iraqi MIG-21's despite being loaded with ground attack ordinance.
Caroline shares challenges she faced in the cockpit (what to do when "nature calls" & why Skittles are bad) and in Navy as a whole. One of the more revealing chapters came at her first squadron party. When the other aviator's wives discovered she was not a wife/girlfriend but rather a Jet Girl, she was immediately frozen out of the conversations.
Caroline was one six Jet Girls deployed aboard the aircraft carrier USS George H.W. Bush. In August of 2014 she and her pilot attacked armored ISIS vehicles attacking civilians. They were credited with destroying several of the vehicles and killing 16 ISIS fighters.
Eliminating bias is not just an issue of fairness. One of the practical reasons civilians should all care about breaking down gender barriers in our military is despite the millions of dollars spent on training elite pilots, 83% of female aviators leave at the first opportunity.
TAKEAWAY:  The irony of the fact that she was flying a multi-million dollar aircraft over countries that did not allow women to even drive cars was not lost upon Caroline.
Podcast: Play in new window | Download (Duration: 48:08 — 13.8MB)