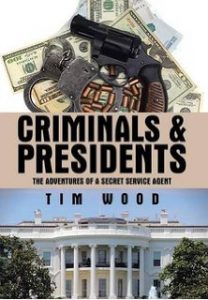 Predominantly recognized for their Presidential Protection mission, the US Secret Service has a much broader set or responsibilities than most persons realize.  First established as a division of the Treasury Department to battle a surge in counterfeiting following the US Civil War, the Secret Service still maintains primary responsibility for counterfeiting and many other financial crimes. They also handle electronic crimes, national special security events and even play a role in the investigation of missing and exploited children. The agency was transferred from the Treasury Department to the Department of Homeland Security in 2003.
A former Marine aviator, Tim Wood spent twenty one years, nine months and five days as a special agent for the Secret Service.  He outlines some of his more intriguing cases in his book "Criminals and Presidents; The Adventures of a Secret Service Agent."  Tim shares some stories about his success in convicting over 100 criminals as well as glimpses into his time protecting Presidents George H.W. Bush, Bill Clinton and George W. Bush.  Secret Service agents must do whatever a President enjoys doing; if the President skis, an agent must ski, if they ride horses then an agent must be able to…well, in Tim's case we find out the distinction between "having been on a horse" and "being able to ride a horse."
A wonderful opportunity to hear directly from a retired member of one of the most elite law enforcement agencies on the planet.  Tim is one of the less that 1% of applicants that are accepted into Secret Service training and truly represents the motto "Worthy of Trust and Confidence".
Podcast: Play in new window | Download (Duration: 41:49 — 7.6MB)