Jeff Struecker was a 24 year old sergeant and member of one of our nation's most elite fighting forces. In 1993 he was assigned to Task Force Ranger in Mogadishu as part of the 75th Ranger Regiment.  He participated in the Battle of Mogadishu, dramatized on the big screen in the movie "Blackhawk Down."  Struecker led the three vehicle convoy that returned wounded Ranger Pvt. Todd Blackburn to base through intense fire. In was in his Humvee that the first fatality of the mission also occurred when Dominick Pilla was shot in the head and killed instantly.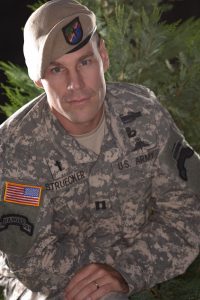 He shared with American Warrior Radio listeners; "The whole rest of the night I'm in the city streets and we're getting shot to pieces all night long. And most of that night I was totally convinced that I was going to die."
Jeff Struecker would survive and the Blackhawk Down experience inspired him to become an ordained minister. He returned to lead Rangers in combat as their Chaplain. He had multiple tours of duty in Afghanistan and Iraq and also won the "Best Ranger" completion in 1996.
Jeff Struecker became an author, relating how he faced fear and found courage in two books; "The Road to Unafraid" and "Bullet Proof Faith". Following conversations with a friend who advised him that the best way to get his message to readers was through another medium, Jeff began writing non-fiction novels and has published four books in that genre.
Jeff Struecker currently serves as the lead Pastor of a Baptist church in Georgia.
Podcast: Play in new window | Download (Duration: 43:08 — 8.0MB)