The Joint Enabling Capabilities Command is a unit of the United States Transportation Command. JECC provides mission- tailored packages on short notice to Combatant Commanders. They are a great example of military capabilities used to assist in humanitarian missions. They bring unique capabilities to areas that have been devastated.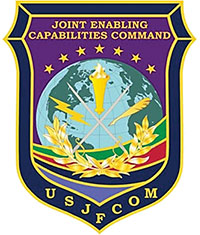 Major Stacie Shafran and her 12 person team were dispatched to the Philippines to assist after super typhoon Haiyan/Yolanda, one of the most powerful tropical cyclones ever recorded. 6,352 persons were killed with another 1,771 reported missing.  She says when they arrived "everything was just..gone." Her job was to organized media and communications, particularly with the significant numbers of world media that came in to cover the tragedy. One of the challenges she faced was a situation on the ground that was changing by the hour.
Military assets like the Navy  task force were able to manufacture 700,000 gallons of clean water every day and the Marine Corps Ospreys were able to get the aid into remote locations.  Stacie was also impressed with how the communities organized themselves and rallied to support each other.
She compares her experience with the Joint Enabling Command in the Philippines with her time working in Afghanistan. "People are people no matter what they backgrounds are. It was an honor to empower the women we worked with in Afghanistan and to help the children."
TAKEAWAY: "What hits me is coming back and realizing how wonderful our country is and not to take any of that for granted."
Podcast: Play in new window | Download (Duration: 46:14 — 7.9MB)