When:
April 30, 2022 @ 12:00 pm – 1:00 pm
2022-04-30T12:00:00-07:00
2022-04-30T13:00:00-07:00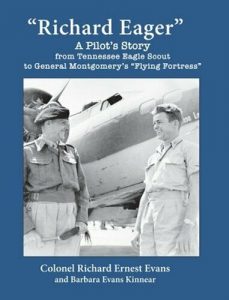 Richard Evans earned the nickname "Eager" while an aviation cadet. He flew 54 missions in North Africa, Italy and other German held territory and one mission in Japan. He was selected to pilot the B-17 "won" by British General Montgomery in a bet.  His family has compiled his correspondence and personal recollections in a wonderful new book written by his daughter Barbara Kinnear.