May 10, 2015
Sebastian Junger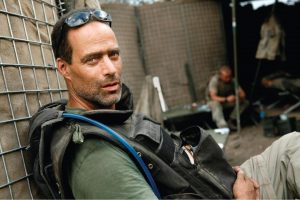 Sebastian Junger never wore the uniform but he HAS seen war up close.  As an award winning journalist and special correspondent at ABC news, he has covered many conflicts. His documentary "Restrepo" about his time embedded with a US Army unit in the Korengal valley of Afghanistan was nominated for an Academy Award and won the Grand Jury Prize at the Sundance Film Festival. His other film credits include "Korengal" and "Which Way is the Front Line From Here?"
Junger joins American Warrior Radio to discuss his latest documentary "The Last Patrol" which chronicles a walk from Washington, D.C. to New York City. Junger had planned to make this journey with his close friend and fellow war reporter Tim Hetherington before Hetherington was killed covering the Libyan civil war. As a tribute to Tim, he made the journey accompanied by combat veterans Brendan O'Byrne, Dave Roels, acclaimed Spanish photojournalist Guillermo Cervera and Junger's trusty canine companion "Daisy".
Following Hetherington's death, Junger established Reporters Instructed In Saving Colleagues, a special program to train and equip combat journalists to treat life-threatening injuries on the battlefield.
The Author of several bestselling books ("War" & "A Perfect Storm") and a regular writer for Vanity Fair magazine, Sebastian Junger is also active on the speaking circuit sharing his thoughts on the challenges faced by warriors attempting to integrate back into civilian society.
Podcast: Play in new window | Download (Duration: 45:51 — 10.5MB)